Principles of Neuroimaging B - 2015
Jump to navigation
Jump to search
Principles of Neuroimaging B, Winter, 2015 - Class Schedule and Syllabus
Week 1 - MRI and fMRI
Monday 1/5/15
- MRI II Speaker: Cohen
Magnetic Resonance Imaging (MRI) is probably the most influential and most flexible current means of imaging the human brain. It features a vast number of separable contrast mechanisms, and a near ideal combination of non-invasiveness, safety, resolution and metric accuracy. However, it is extraordinarily expensive and has limited temporal resolution, especially for functional studies
OUTLINE Required Readings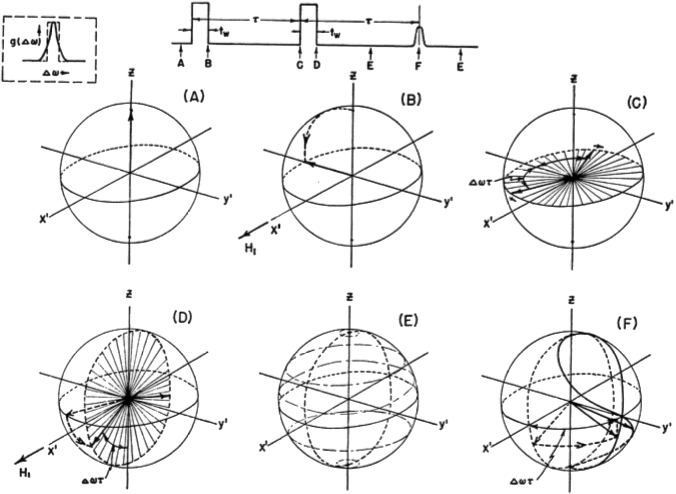 above: Figure 1 from Hahn, 1950
Suggested Further Reading
Wednesday 1/7/15
- fMRI and MotionSpeaker: Cohen
Week 2 - Artifacts, Image Quality, Diffusion
Monday 1/1215
- Artifacts Speaker: Cohen
Wednesday 1/14/15
- Diffusion Physics Speaker: Ben Ellingson
Required Readings Slides should be up soon.
Suggested Further Reading
Sadly, the library does not have a subscription for the journals below (Mark has copies on reserve in his office):
Week 3 - Holiday and a canceled class
Monday 1/19/15
Martin Luther King Day
Wednesday 1/21/15
Class canceled due to other academic commitments. Sorry
Week 4 - Optics, SQUIDs MRI Contrast
Monday 1/26/15
The overall goal of this lecture is to establish that: - Physical constants have tangible meanings - Plane waves form a physically unrealizable but extremely good approximation to real systems - Boundaries bend light - Physical constants, plane wave mechanics, and boundaries can be used to describe the operation of a lens - The PSF gives a good indication of the overall performance of an imaging system - All of these concepts have analogues in other areas of engineering (ie circuits, mechanical vibrations, etc.)''
Outline:
Constitutive parameters (ε, μ, η, n, etc.)
Plane wave basics
Plane waves at boundaries
Lenses
Advanced imaging properties of lenses
Point spread function.
Required Readings Zach has very kindly agreed to post his Optics lecture notes. Suggested Further Reading
Wednesday 1/28/15
SQUIDs and MRI Contrast Agents. Speaker: Massoud Akhtari
Superconducting QUantum Interference Devices
What is superconductivity
What are SQUIDs
Basic physics of SQUIDs
Basic principles of measuring small magnetic fields
Applications
Suggested Further Readings
Principles and roles of contrast agents on MRI
What are contrast agents
What are the physical principles of MRI contrast agents
Different classes of MRI contrast agents: Passive vs active
examples of various contrast agents
Physiological and safety requirements of contrast agents
Targeted contrast agents
Suggested Further Readings
Week 5. Optics and New Optical Methods
Monday 2/2/15
Required Readings
Continued from prior week
Wednesday 2/4/15 - Trans-blood and TeraHertz Imaging Speaker: Warren Grundfest
Required Readings
Optional Readings
Week 6 Ultrasound and Optogenetics
Monday 2/9/15
Required Readings
Wednesday 2/11/15
Optogenetics. Speaker: Tom Otis
Required Readings
Week 7 PET
Monday 2/16/15
President's Day Vacation - No Class
Wednesday 2/18/15
Positron Emission Tomography. Speaker: Magnus Dahlboun
Handouts distributed in class.
Week 8 PET and Spectroscopy
Monday 2/23/15
PET applications. Speaker: Edythe London
Wednesday 2/25/15
- Spectroscopy Speaker: Joe O'Neill
Required Readings
Week 9 Transcranial Magnetostimulation and Brain Stimulation
Monday 3/2/15
Class canceled due to scheduling problems.
Wednesday 3/4/15
'Required Readings
Suggested Further Reading Once upon a time we demonstrated that this sort of magnetic stimulation can take place in the MRI machines:
tbd
Week 10
Monday 3/9/15
- Multimodal imaging. Speaker: Mark Cohen -
Required Readings
Wednesday 3/11/15
Required Readings